Introduction
Boogi is our 3-year-old purebred Dogue de Bordeaux. Throughout his short life, he has generally experienced a number of irritable skin conditions among other health challenges. Numerous trips to vets and attempts to use various traditional medicines always seemed to come up short with nothing hitting the sweet spot that we needed to sort out the core problems causing the issues. The outward symptoms Boogi was experiencing included aggravated lumps on his scalp, sloughing skin on his face, red irritated webbing on his paws and we knew he wasn't quite the weight that he could be.
The Transformation
We run a functional fitness facility in Tauranga and the concept of using a Probiotic product fits in with our whole ethos and was a concept we thought could provide the answer for Boogi. We met Matt from Probiotic Revolution by chance while both watching a netball game with Boogi in tow. Matt noticed the condition Boogi was in and after a bit of a chat we decided that we needed to get use the product Probiotics 4 Dogs.
On recommendation, we started the course of probiotics with a double dose for a few days and after about 4 days we were blown away by the difference we could already see. We were convinced Boogi was already putting on weight and his face was starting to look a bit better. He had completely stopped attacking his feet and generally seemed a bit calmer.
After 3 weeks of using Probiotics 4 Dogs, Boogi was a new dog and we had settled on the fact that we wouldn't go back to not using this product. He had gained around 7kg in weight and his body condition looked hugely different. It was really noticeable on his neck and shoulders. His skin condition on his face had totally cleared up and the lumps on his head had disappeared with the fur now growing back and looking healthy. What we hadn't realised was just how much all of these conditions must have been affecting Boogi and now we could realise the change in his energy levels, playfulness and general mood. And all of a sudden we had a dog with a healthy appetite. He now eats like he never has before and more like what we expected from a dog of his size.
Reece Spee – Boogi's Owner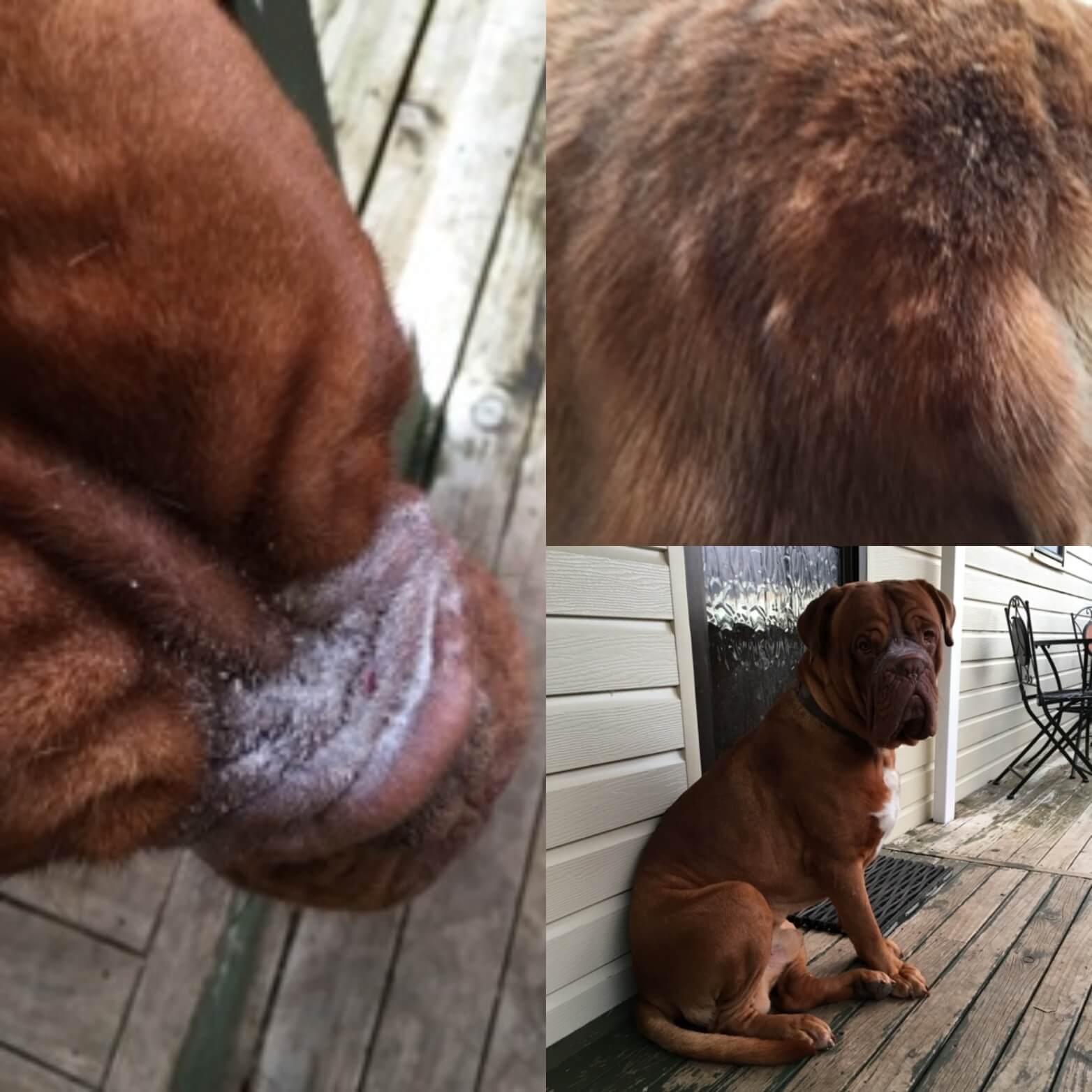 Before Probiotic 4 Dogs
5 strains of bacteria, 5 Digestive enzymes, 1 powerful strain of yeast.
Large dogs – 1 tsp/day
Small dogs (under 20kg) – ½ tsp/day
150g – $40 (30 large doses)
300g – $63 (60 large doses)
Probiotics 4 Dogs is a powder supplement with an enteric coating that is simply sprinkled over food. It can be used in particular times of stress or when there are symptoms that may need relieving or can be added to the dog's daily diet to ensure a balanced gut flora to keep ultimate physical condition.
Probiotics 4 Dogs can help with skin conditions, allergies, dietary upsets, weight conditions and generally boost the immune system. It is particularly useful in times of stress or change of diet/environment.
There are 10 times more bacterial cells than human tissue cells in the body and this is more or less the same for dogs. While these cells are so small they can only be seen under a microscope, they number so high that they can be measured in kg's. These good bacteria are responsible for 70 – 80% of the immune system function in mammals, good enough reason alone to make sure the balance of good bacteria is always kept. The effects of this balance of bacteria stretches beyond just benefiting the digestive system with strong links between the gut, brain and skin with numerous conditions affecting these organs seeing improvements from the addition of probiotic supplements.
Matt Collier